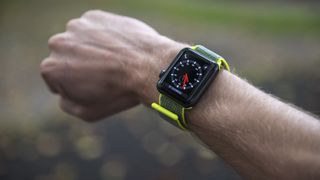 Update: A new report suggests Apple may be willing to let third-party developers start work on watch faces for the Apple Watch. If this is the case, expect far more watch faces to debut in watchOS 5 and on the Apple Watch 4.
The Apple Watch 3 is the best wearable Apple has built, and, as it tops our best smartwatch list, it's arguably the best smartwatch from any manufacturer that you can buy right now.
But, like most things in the gadget world, it's still not perfect or essential in the way that a smartphone is, so naturally it's expected Apple plans to improve it with a Watch 4.
Below we've put together all of the leaks, rumors and speculation about the Apple Watch 4 we've seen so far, plus a list of things we'd like to see Apple implement in its next generation wearable.
Cut to the chase
What is it?

 

The next generation Apple smartwatch
When is it out?

 

Possibly September 2018 alongside new iPhones
What will it cost?

 

Probably upwards of £329 / $329 / AU$459
Apple Watch 4 release date and price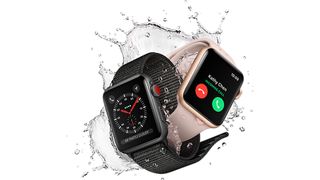 Apple announced the third iteration of its smartwatch on September 22, 2017, so we expect we'll have to wait until at least September 2018 to see the launch of the Apple Watch 4.
As the Apple Watch 2 was released a year earlier in September 2016, that's our best guess - but it's quite likely. We could be waiting even longer though as the gap between the original Apple Watch and the Apple Watch 2 was over a year at 17 months.
There's no word on the Apple Watch Series 4's price, but it's likely to be around the same as the Apple Watch 3 currently is, meaning a starting price of around £329 / $329 / AU$459 for the smaller 38mm version.
That said, the Apple Watch 3 actually had a lower launch price than the Apple Watch 2, so with all the extra tech likely to be found in the Apple Watch 4 the price could equally increase or decrease a little.
Bear in mind that the price we've mentioned above is just the starting cost. If you choose the larger 42mm band or opt for LTE connectivity, the Apple Watch 3 gets more expensive, as does choosing a pricier case or strap material. All of that is likely to remain true for the Apple Watch 4.
Apple Watch 4 design and display
A trusted analyst that has previous history of predicting Apple products suggests the Apple Watch 4 is set to undergo a big design overhaul.
So far every generation of the Apple Watch has come in either 38mm or 42mm screen sizes, but KGI analyst Ming-Chi Kuo says he believes the Apple Watch 4 will have a 15% larger display.
That doesn't necessarily mean the Apple Watch 4 is going to a much bigger watch - the Watch 3 has a lot of bezel space around the outside of the display, so it may be the company has slimmed this down to fit in the extra screen real estate.
That said, Kuo's report does suggest the company will be including a larger battery inside the Apple Watch 4 that will likely mean the body of the watch will have to be at least a touch bigger to squeeze in the larger cell.
Kuo also notes that the design of the Apple Watch 4 is set to be "more trendy", but exactly what the analyst means by this isn't particularly clear yet so we'll have to wait for picture leaks to know more about the look.
Before Kuo's comments, we had seen a patent for a self-adjusting watch strap. This would involve a mechanism that expands and contracts the strap as needed, so that the fit remains comfortable and not too loose at all times, which could also help ensure the sensors on the watch get accurate readings. 
It's unlikely to happen on the Apple Watch 4, but back in 2016 we also saw a patent filed by the company for a round smartwatch so we may see that in some future generations of the wearable.
Apple Watch 4 features and spec
One leak suggests Apple will use faster, more versatile circuit boards for its antenna. That's again according to analyst Ming-Chi Kuo who speculates it'll mean a more stable LTE signal and better heat and moisture resistance.
Rumors for watchOS 5 (learn more about that below) suggest the upgrades to the OS will be using the LTE signal much more regularly, so it makes sense if the company plans to update it to a faster antenna.
One change that we can predict is the chipset, with a new Apple S4 one likely to be included, though we don't yet know how much difference that will make. 
As for new features on the Apple Watch 4, it looks like you may able to unlock your watch by just looking at it. Apple patents show that the Apple Watch 4 may bring a Face ID camera to make the wearable more secure. 
That'd mean you'd just be able to look at your watch to unlock it and avoid having to enter an annoying PIN number to be able to use certain functionalities. Additionally, it would make it a whole lot easier to make quick FaceTime calls from your wrist 
Apple Watch 4 fitness
One report from late in 2017 suggests the Watch 4 could get an upgraded heart rate tracker that could embrace EKG technology for the first time.
EKGs, also known as ECGs or electrocardiograms, are more advanced than a standard heart rate monitor and provide more in depth information, by using currents of electricity to analyze your heart's behavior.
The rumor comes from Bloomberg (who spoke to people familiar with Apple Watch 4 plans) but the site also spoke to a cardiologist at the University of California who said the feature isn't intended for those who don't experience heart-related issues.
The cardiologist went as far to say if you're a "healthy person", "there's no reason to follow ECG" activity.
There's also an older patent for a wearable that can measure your respiration rate, which could well be a feature on the Apple Watch 4, but considering we've yet to see any further leaks about the feature it may be something included on a future wearable like the Watch 5.
You can expect the return of fitness features we've seen on the Apple Watch 3 including the top-end heart rate monitor and GPS technology as well as the ability to track your swimming with the waterproof design.
Apple Watch 4 OS and battery
It's also likely that the Apple Watch 4 will run watchOS 5, although again we've got very little information on what that will feature.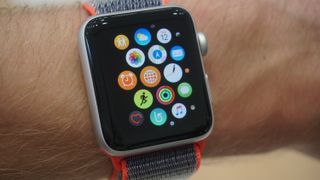 One report has said the new software will bring something called StreamKit, which would allow for a Spotify app on Apple Watch. That would be a big deal for those who don't use Apple Music.
StreamKit is a framework that's set up behind the scenes to allow cellular versions of the Apple Watch to receive push notifications from apps. That would mean you'd be able to get Facebook or Twitter messages directly to your wrist, and it's another step toward having a fully functioning phone replacement.
Another report (from 9To5Mac) found a suggestion in some watchOS 4.3.1 beta code that the company may be ready to allow for third-party watch faces in the next version of the Watch software. 
If that's the case, it means lots more developers will be able to make watch faces for the Apple Watch and hopefully, there will be far more innovation and experimentation than what we've seen in the past. Basically, if Apple allows this you can expect far more style choices when it comes to watch faces on the Apple Watch 4.
https://www.techradar.com/news/apple-watch-4-release-date